Visiting Euref Campus Berlin
Visiting Euref Campus Berlin
Incubatorestartup.com has visited Euref Campus during the networking event German-Italian Innovation Conference in Berlin.
The 5.5-hectare city district is a symbol of the energy transition in Germany and location for companies in the fields of energy, sustainability and mobility. Incubatorestartup.com has been visiting also Euref restaurants and experience the topics of the energy transition as part of a guided tour.
Since the beginning of the location development in 2008, internationally renowned companies and research institutions have settled on the EUREF campus. Through a close exchange and numerous partnerships, the innovative community of global players, start-ups, and research and educational institutions are developing smart solutions for the city of the future.
The sustainable and pioneering concept makes the location around the historic Berlin Gasometer a unique center in Europe for innovative future projects.
As early as 2014, the EUREF campus was able to reach the German government's CO2 climate protection target for 2050. With its climate-neutral energy supply, intelligent energy network, energy-efficient buildings, the electromobility testing platform and numerous research projects , the campus proves that the energy transition is feasible and affordable.
The EUREF campus tries to make the topics around the energy transition visible and tangible, to identify solutions and to bring together actors.
Successively, energy-saving new buildings are being built that are continually expanding the supply of high-quality office space of all sizes.
The EUREF campus tries to make the topics around the energy turnaround visible and tangible, to present solutions and bring together the different actors. Because the implementation of the climate goals is only feasible if business, science, politics and the public constantly exchange ideas and formulate measures. The City Quarter is continuously expanding its function as a forum and information hub through events on climate protection and sustainability, guided tours of the campus and company visits, as well as informative projects such as the new "Workshop on the Energiewende".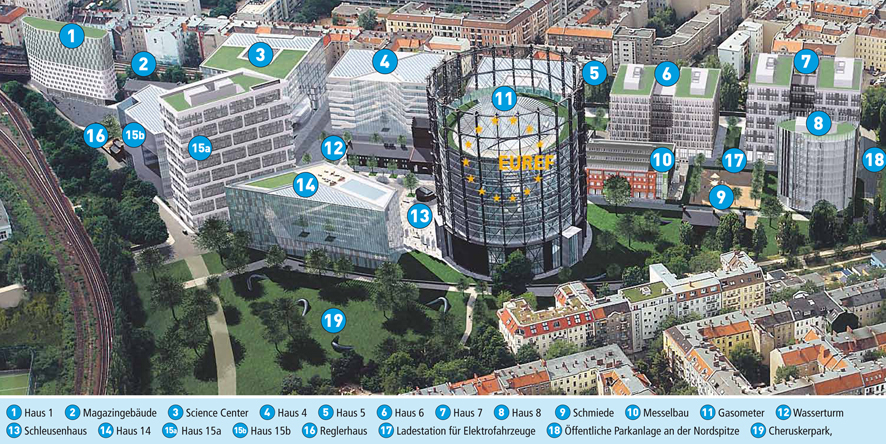 Keywords: Visiting Euref Campus Berlin, International Networking, energy transition, energy, sustainability, Incubatorestartup.com, rental properties